Please send a donation to help support their work.

Humane Society

HSWT
P.O. Box 65645
Lubbock, TX 79424

Message Number
806-799-7387
Welcome to the website (Domain) of The Holy Eastern Orthodox Catholic and Apostolic Church in North Americasm
American Orthodox Catholic Church sm.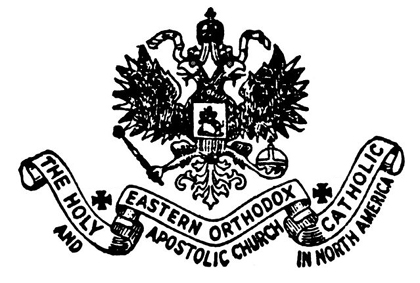 sm
Older original Logo
Registered Service Mark 2000
Welcome

Thank you for visiting our website
This website contains information about this Historic Church, Holy Scripture, Orthodox Canons and Tradition.
Update
Before you continue please read this statement. This is not up for discussion. We are the one and only American Orthodox Catholic Church - (short name for) The Holy Eastern Orthodox Catholic and Apostolic Church in North America that was canonically chartered by the Russian Synod in North America and headed by Archbishop Aftimios Ofiesh. This Church continues today. We are the original 1928 corporation!
All the independent groups who claim to be us by using one of our names, claiming to be us but under another name and who claim to be us based on their lines that trace back to Ignatius Nichols are in no way associated with us, are not us and have no apostolic succession from us. We deny they are even Orthodox! Since we exist and continue they cannot be us. When they or the ethnic schismatic jurisdictions attack us and Abp. Ofiesh of blessed memory they prove their unchristian nature by their actions!
- - - - - + - - - - -
+ To God be the Glory +
Invitation to join us
NOTICE:
This website contains Historic Church information
of
The Holy Eastern Orthodox Catholic and Apostolic Church in North America.
American Orthodox Catholic Church
Our short name since 1927
Canonically Established Feb. 2, 1927
Incorporated Feb 1, 1928
Written by Archbishop Victor
former Metropolitan Primate of
THE HOLY EASTERN ORTHODOX CATHOLIC AND APOSTOLIC CHURCH IN NORTH AMERICA
Corrections: We believe all information published to be factual. If you disagree with any information on this website you may send the corrected information in the manner you feel it should be corrected and any related documents to theocacna@msn.com. The details and documents you provide will be reviewed.
Why we are Orthodox
We are the one and only Church that was canonically established by the Russian Synod in North America (Moscow Patriarchate) and headed by Abp. Aftimios Ofiesh of blessed memory.
We use the approved Orthodox Liturgy for the Western Rite as published by the Antiochian Orthodox Christian Archdiocese of North America. Our Eastern rite clergy used the approved Eastern Liturgies. We follow Holy Scriptures, the Pedalion which is also known as the Sacred and Divine Canons and Traditions of Orthodoxy.
Today while some orthodox claim the canons are only a guide we still view them in the same historical manner as they were viewed in Orthodoxy 100 years ago - as Sacred and Divine.
THE ORTHODOX CHURCH HAS TWO GREAT SOURCES OF AUTHORITY
Holy Scripture and Holy Tradition
Holy Scripture is comprised of the writings of both the New and the Old Testaments. The New Testament reveals the human and divine nature of Jesus Christ, and His sacred teachings that we are charged to follow. The Old Testament is a history of the Hebrew people. It contains, among other sacred writings, the prophecies and the writings of the Prophets that foretold the coming of the Messiah. It therefore serves as an introduction to the revelation and the saving message of the New Testament.
Holy Tradition, of which Holy Scripture is a part, includes the writings, teachings, acts of the Apostles, saints, martyrs, and fathers of the Church, and her liturgical and sacramental traditions throughout the ages, the oral tradition of the early Church and the decisions of the Ecumenical Councils. All of this collective wisdom and experience through the centuries are combined to form this second great source of sacred authority.
THE CREED
The Creed contains the Church's basic summary of doctrinal truths to which we adhere as Orthodox Christians. It consists of the twelve articles of the Nicene-Constantinopolitan Creed which is recited at each Divine Liturgy.
+ + + + +
Episcopal Unity
We hold our hand out to our Episcopal Brethern who seek Traditional Orthodox values.

In Orthodoxy the Canons do not allow;
Women to approach the altar, to speak (teach) in Church and
The Western Rite Service Book is similar to the Book of Common Prayer.
Regarding Patriarchs
From the Rudder (Canons)
A Patriarch is the living image of Christ
What is said of the Patriarchs in existance (at the time the Canons were written) is also true of the independent Patriarch's, then and now, that is to say, the Autocephalous Patriarch's.
Logo's - Service Marks
+ Synod Note +
July 24, 2009 was the 43rd Anniversary of the repose of Archbishop Aftimios Ofiesh of Blessed Memory.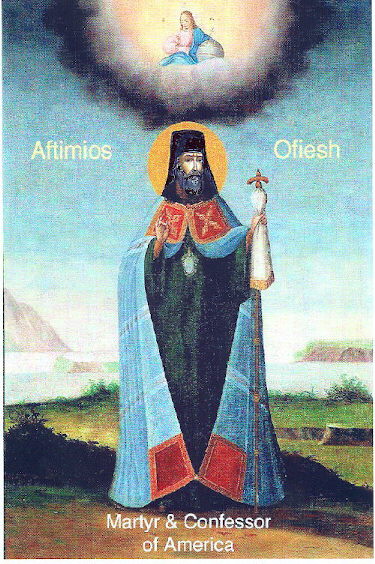 Icon
Archbishop Aftimios Ofiesh
Martyr & Confessor of America
Ofiesh Links
Seeking a new Church home
We welcome you to Western Rite Orthodoxy.
We seek members and clergy. If you have no Church home please consider us.
We welcome Othodox clergy
seeking a home
If you are Orthodox, follow the teachings, canons and traditions of Orthodoxy and are seeking a new bishop and a canonically established Church home we look forward to hearing from you. Our clergy must sign a clergy declaration.
Church members are also welcome but we are limited as to our locations. We await a decision by another synod of a canonical bishop to see if they will be merging with us.
We welcome members and clergy of the various Liturgical Churches who leave their present Church due their allowing women clergy and other serious breaches in the Churches teachings and beliefs that are contrary to Holy Scripture. Non-Liturgical Church members as well as those of other faiths are welcome also.
As a canonically established Orthodox Church who is recognized by both the Roman Catholic Church and the Episcopal Church USA we are the closest Church to the old world ethnic Churches available today. We are not a uniate Church and are not under the Pope of Rome. We are under Patriarch Nikon of the American Orthodox Patriarchate. Most non-scoba orthodox today in this country make various claims about their status and recognition but appear to be part of the independent movement. Those who seek to be part of a sacramental Church outside the old world Churches need to look no further. America is our canonical jurisdiction! As the American Church we offer all in doubt, lost or those who have fallen away from their former Church a new home if they willingly submit to the Patriarch & Synod.
We are a traditional Orthodox Church and the only Church whose canonical jurisdiction is the New World (North America). We follow Holy Scripture, Orthodox Canons, the Rudder, and Orthodox Tradition, in that order. We were established as an Eastern Orthodox Church by the Russian Orthodox Synod of Bishops in North America with the knowledge and approval of the Moscow Patriarchate in 1927.
Many of us are Western Rite and our Service Book is very similar to the Book of Common Prayer. We are a historic Church from the historic old world jurisdictions that pre-date the Anglican Communion.
+ + + + +
Liturgies
If anyone claims to be a bishop of this Church you may verify their claim by checking the Synod Directory link below.
~ ~ + + + + + ~ ~
Read Archbishop Victor's article on Unity. Visit the Bishops Corner.
~ ~ ~ ~ ~ + ~ ~ ~ ~ ~
About us
Some people ask why we are called Orthodox "Catholic" instead of Orthodox "Christian" like the Greek, Russian and other Orthodox Churches. If you notice our names, both the name we were given when we were Chartered and our Short name, you will see they both say "Orthodox Catholic".
We also use "Catholic" as "Universal" since we are Orthodox from the old world Russian Church, Moscow Patriarchate.
Chartered


Feb. 2, 1927 by the Synod of Bishops in North America of the Russian Orthodox Church (Moscow Patriarchate). This Church continues today as the same Orthodox Church we were established as contrary to some claims. According to the Oct. 1932 newspaper article we are the only Orthodox Church within our rightful Jurisdiction in North America.
[*Note: The 1927
Charter claimed by many independent groups was only issued to this Church].
Our 82nd Anniversary
On February 2nd, 2011

we celebrated the 84th anniversary or birthday of our being canonically established by the Russian Synod in North America of the Moscow Patriarchate. North America is our canonical jurisdiction. Please pray for this Church and our continued growth.

-----------

NOTICE

Spam Note

Notice If you receive any E-mails with info@theocacna.org as the address the headers are forged. We get some returned mail showing this and reported it. Our domain provider advised us to post this notice. Our domain E-mail address is a receive only address. We do not send emails with this address. Please report such spam to the proper agencies and include the header information. Please feel free to include a bind copy to us with the header info included. Thank you.

~ ~ ~ ~ ~

In Remembrance

- - - - - - - -

We oppose war as an instrument of oppression and enslavement. We support our troops and we remember those who have given their lives in the Armed Forces.

The majority of the clergy and directors oppose

Capital punishment.
Legal Notice: This website and photographs are Registered with the U.S. Copyright Office. Our name and logo are Registered or claimed Service Marks of this Church (Corporation). Our name and logo are also Registered with the States of Arizona and Tennessee. Any unauthorized use of our name and logo (Our mark) or copyrighted materials will be considered infringement and theft of our legal property. Anyone claiming to be us or part of this Church and not shall be considered guilty of fraud.
CONTACT INFORMATION:

Archbishop Victor
Archbishop President
Mailing Address:
P.O. Box 121
Sudan, TX 79371 USA

1-806-227-2214

The Holy Eastern Orthodox Catholic and Apostolic Church in North AmericaŽ
American Orthodox Catholic Churchsm



E-Mail Adddress:
info@theocacna.org
Comments about this web site may be submitted to: theocacna@yahoo.com
The Patriarchal logoŽ and graphics on this site may not be transferred or used on other World Wide Web sites without permission.
The material on the domains are copyrighted 1999-2009 Victor Prentice
No part of this site -- including the content, photographs, logos, or other graphics -- may be utilized or reproduced in any form or by any electronic or mechanical means, (including transferral to other web sites, photocopying, recording, storage in a datebase or other information retrieval system), without express, written permission. All rights are reserved under international copyright conventions.